The Message from the President of the University
Welcome to Erbil Polytechnic University!
Thank you for your presence and for allowing me to address you today, academic staff, faculty, students, stakeholders and partners.
After my selection to lead the Erbil Polytechnic University in April 2022, I immediately began to try to understand the environment of our university. Accordingly, I resolved to develop EPU into a university dedicated to meeting the needs of our community by providing students and faculty the best quality of classroom education, professional development and technical excellence in preparation for service in our fast-paced, technologically-advanced world. At EPU, we place great emphasis on practical learning; learning which is appropriate for meeting the needs of our community. We provide high–quality technical educational experiences in a safe environment for all our students and faculty members.  To this end, one of our top priorities is to enable students to translate classroom theory and concepts into practical application. We strive to provide the opportunity for every student to make a positive impact on our world.
We make every effort to enhance the EPU environment, so that every person feels proud and valued of educational endeavors and their academic achievements.  I believe the success of our university hinges upon our faculty members, students and academic staff growing and thriving as they pursue their personal academic goals, supported by our kind and generous partners and stakeholders.
Currently, at EPU, we are a booming, welcoming community of learning, which attracts thousands of national and international students, instructors, innovators and academic leaders.
 I am convinced, that together, we can increase our research results and drive positive social, economic, cultural, and environmental change. I am determined to deepen our commitment to our university missions. I will foster an active and engaged learning environment. Also, I am striving to cultivate a sense of belonging among staff through creating many opportunities to collaborate, and expand our national and international academic relations with our partners through joint research, training and exchanging of students, as well as faculty members.  I will embrace every opportunity that lay ahead as I believe that higher education institutions are the only means by which we can drive positive change in the community.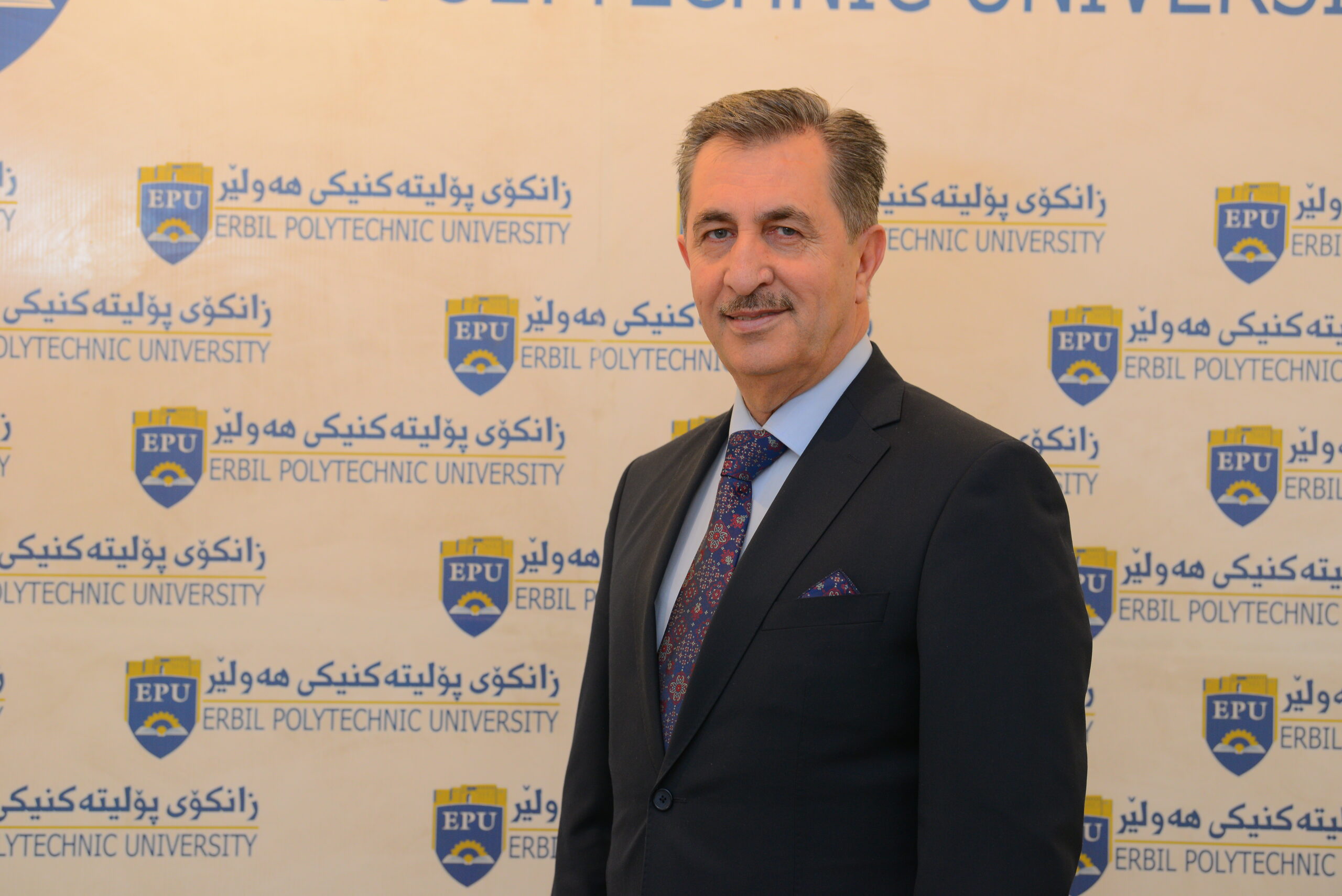 Therefore, we have the opportunity and responsibility to educate, stimulate and equip Gen Z students with 21st century skills for effective cross-cultural communication of new ideas and creative thinking.
Presently, the Erbil Polytechnic University has six technical colleges and six technical institutes. It covers 629 academic staff and around 11000 students. The vision of EPU is to ensure a creative, comprehensive, inclusive technical education, based on labor market needs throughout the dynamic Kurdistan Region.
We prepare learners for taking personal responsibly for their education and careers in the regional economy. We provide assistance to students in developing hyper-critical thinking and teamwork skills that employers increasingly demand of entry-level employees. In addition to scientific research, EPU's collaboration with partners in technical education, health care, business, private sector, governmental and non-governmental NGOs will allow us to provide knowledge and have a great impact on the success of Kurdistan as we move forward into a bright and prosperous future.